BEST GOLF COURSES IN CANCUN – RIVIERA CANCUN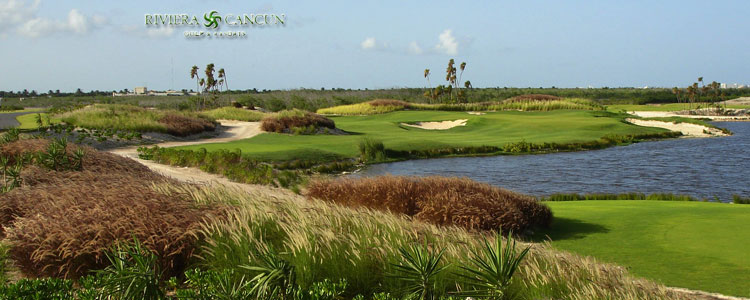 Coming in at #6 is Riviera Cancun. A combination of mangroves, exceptional ocean sights of the Caribbean Sea, incredible views and undulating fairways and greens, makes this easy-to-get-to course the perfect sum of challenges for all golfers.
Riviera Cancun is very different for the Riviera Maya, with each hole isolated from view, lots and lots of water, a desert feel with long cart boardwalks and abundant virgin waste area. The biggest difference between this and Moon Palace, is a sign of the "New Nicklaus" – heavily contoured and very tricky greens. Nicklaus said, his tact is different and that the only way to protect against pro-caliber assault is to toughen the greens. So there is a clear difference between vintage Nicklaus designs with moderate sized and flattish greens and the most recent efforts, which feature smaller and rolling greens that are tricky to hold and tricky to putt, dropping off in various directions.
Located at the south end of the hotel zone, this 18 hole, 7,060 yard, par 72 Jack Nicklaus Signature Design course, this spectacular course is carved from the terrain's natural contours, features strategic bunkering, immaculate greens, stunning layout of fairways, as well as wooden bridges and two holes with gorgeous ocean views.
If you are interested in golfing Riviera Cancun, or any of the other golf courses in the Riviera Maya, Teed Off Tee Times is your local source for tee times. Visit us online at teedoffteetimes.com or call us toll free at 1-855-833-3633.
---