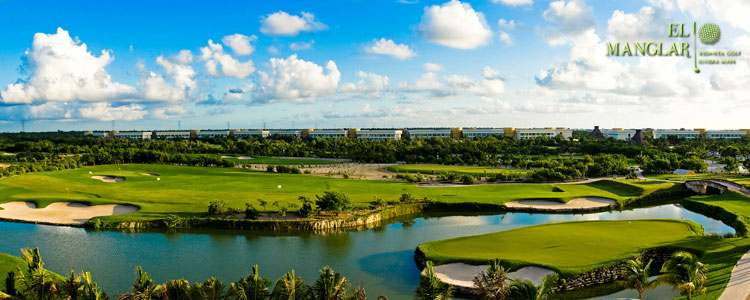 El Manglar Riviera Maya
Green Fee $119. USD
6:30 AM - 8:50 AM $105. USD
Twilight @ 2:00 pm $89. USD
Rental Clubs $45. USD
Greens fees include transportation from and back to your hotel at no extra cost!
Rates Valid Until April 30, 2021

This 18-hole course was conceived with full respect for both the naturally abundant fauna and the environmentally sensitive areas that surround it. A great resort course with predominant trade winds that demand pinpoint accuracy and challenges even the most experienced of players. It is perhaps at El Manglar Riviera Maya that Nicklaus Design firm, best captures the innovative and revolutionary essence of the Grupo Vidanta style. An 18-hole par 54 this 2923-yard long filled with radiant white sand traps, the dark tones of natural stone lining pristine lakes, the deep, lush hue of the greens and the waste bunkers, this course is a garden of delights for golf lovers. An imposing golf course with many surprising features, for example the 276 yard-long 13th hole played into the prevailing wind. The 17th, the course's signature hole, nicknamed "Donna-green", boasts two bunkers on either side of the green and one more at its center, making it a one-of-a-kind, and notoriously difficult to escape from with a par.
Green Fee $119. USD
6:30 AM - 8:50 AM $105. USD
Twilight @ 2:00 pm $89. USD
Rental Clubs $45. USD
Juniors $45. USD
Driving Range Balls (25) $5. USD
Green Fees include transportation from and back to your hotel at No Extra Cost!
---